Student Connections from Afar
Engage your international student applicants and engage them as they make that critical decision: where to enroll.
International students and their parents are involved in the enrollment decision as they sift through 3 to 5 admissions letters on average. A customized digital orientation with content in their native language prompts a connection to your institution and allows the parents to evaluate the options along side their student.
This customized student orientation microsite can be designed for applicants and matriculated students. Features and content we can incorporate:
Designed using your brand and style
Your orientation content translated into multiple languages, including downloadable documents, videos (campus tours, webinars), training materials, intake forms
Intead provided content about studying at a US institution, living in the US, among other valuable student-focused topics
Forums for prospective students and families to ask questions, connect with their future peers, and share their opinions and excitement
Email communications in native languages
Analytics to support continual improvements
Pricing
Basic sites start at $8,500. Additional features and pages will increase the cost. Be in touch to discuss the range of options.
Would you like a demo?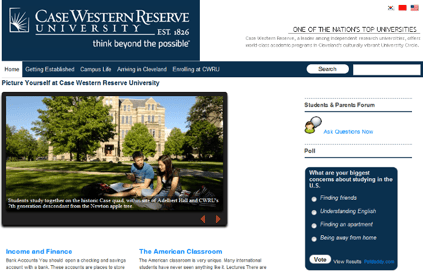 Need a Consultation?
Are you ready to get started and explore the value of our Student Digital Orientation for your institution? Request your consultation here.