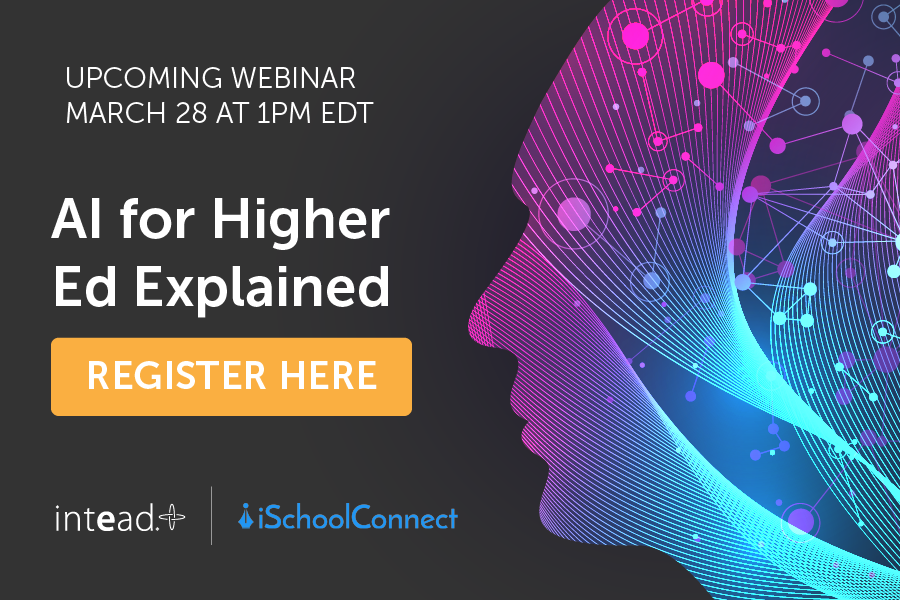 50% of Nafsan's indicate they think AI will change Higher Ed but they do not know how. We'll tell you how!

On March 28 at 1PM EDT, join Ben Waxman, Intead CEO, and Ashish Fernando, iSchoolConnect CEO, in this intriguing discussion about Artificial Intelligence (AI) applied to the Academia industry.

AI for Higher Ed Explained webinar will provide you with "almost" everything you need to know about AI. We will share valuable data about online behavior, technology trends, case studies, and the many faces AI can have to help your institution improves your student recruitment and engagement.

Do you know that out of 150 million conversations happening on the Internet, 80% were done with Bots? Register for this webinar and join the conversation! (No bots allowed)

Presenters:

| | |
| --- | --- |
| | |
| Ben Waxman | Ashish Fernando |
| CEO, Intead | CEO, iSchoolConnect |
Guest speaker: Ashish Fernando
Ashish founded iSchoolConnect in 2017 with a vision to democratize the global admissions market. By eliminating silos that exist between schools and prospective students, through the effective use of artificial intelligence, iSchoolConnect aims at being the most cost-effective and advanced solution for connecting students and schools worldwide. Ashish Fernando is a Gold Medalist in Biotechnology and an MBA from Bentley University, USA. Ashish also currently serves as an Advisor at LearnLaunch, the largest Edtech accelerator on the East Coast, and as a Tech Speaker with Google for Higher Education.